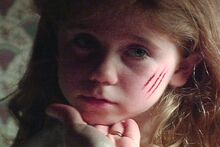 Heidi Wyrick is the main character in the 2nd Pilot Episode A Haunting in Georgia. She first meets Mr. Gordy a friendly elderly spirit who has passed away years ago, as well as Lon Con Batchelor another spirit who shows up with blood on his shirt and having a bloody bandage. According to Dr. Roll hides Mr. Gordy's photo with several other photos of elderly men, Heidi identifies Mr. Gordy, as well as Khan. However Heidi senses a more sinister presence of a Dark figure who's face is obscured by a hood, Heidi is the only member who senses the Dark figure.
Write the text of your article here!
Ad blocker interference detected!
Wikia is a free-to-use site that makes money from advertising. We have a modified experience for viewers using ad blockers

Wikia is not accessible if you've made further modifications. Remove the custom ad blocker rule(s) and the page will load as expected.